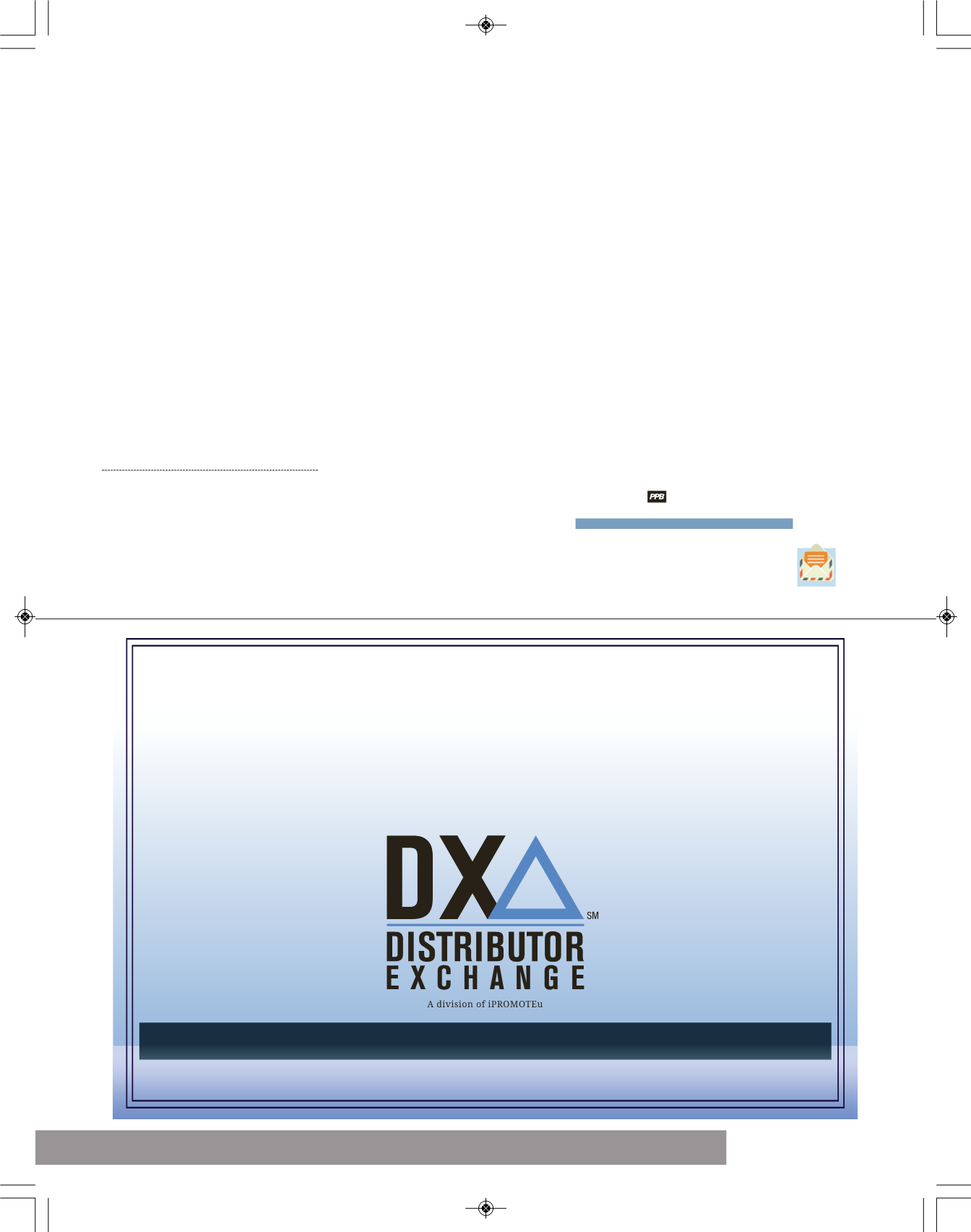 other prospects that represent very large
organizations.
On my second panel, I was joined by
three of my existing clients, so my
opportunities for new business were lim-
ited. But the experience really helped us
bond. Advocating for PPAI turned out
to be a great opportunity to help some
kids, make some connections and relate
in a different way to some of my clients.
It would have been difficult to achieve
all of this any other way. Becoming an
ADvocate has been a win-win situation.
Ian Miller, Ed.M, MAS
President
I Miller International & Co.
South Orange, New Jersey
UPIC: IMILLER
The Value Of Knowing Your
Company's Value
The April issue of
PPB
featured a col-
umn by Jeffry Meyer, MAS, CEO of
Certified Marketing Consultants, on
benchmarking the value of an industry
company. Meyer's article looked not only at
quantifying the current worth of a company
but also on identifying its future earnings.
Thank you for publishing the article
"What's Your Company Worth?"
Creating and building a distributorship
that has value and is sellable is a real chal-
lenge. The article provides a good frame-
work for what I need to do and how to
prepare for the sale of my business, but I'd
like to learn more about this topic.
Avery Manko
President
The Manko Company
Mendenhall, Pennsylvania
UPIC: manko
I read with great interest and
approval last month's "What's Your
Company Worth?" by Jeff Meyer of
Certified Marketing. Someone in Jeff 's
role would also raise these issues to busi-
ness owners: 1. What is the realistic tar-
get market of buyers for your business,
(financial or strategic? If strategic, what
is the strategy?); 2. In what ways do your
business and your skills have different
values to different buyers?; 3. Post-sale,
what are your aspirations and continuing
compensation needs, and what is the
highest and best use of your talent?; and
4. Most importantly, how does one
address the total destruction of equity
value that ensues if the tipping point is
reached and liquidity distress shakes the
confidence of our supplier community? I
say "most importantly" because as an
active acquirer of distributor businesses,
we have chosen to not consummate
transactions that would not pay the
trade in full.
Marc Simon
CEO
HALO Branded Solutions
Sterling, Illinois
UPIC: HBS
MAY 2015 •
PPB
• 9
Send feedback on articles in
PPB
or
opinions on industry issues to
JamesK@ppai.org
.
www.TheDistributorExchange.com
• 844-251-8544
(toll free)
A service for distributors with sales less than $1,000,000.
Do you want to sell your distributorship?
Would you like to slow down, take it easy, and not work so hard?
We can help you sell your distributorship quickly and easily.
We can also structure an exit strategy that makes sense for you.
All inquiries are strictly confidential.
201505_Feedback_PPB 2013 4/15/15 9:47 AM Page 9